Premium Car Service in Hampton East
If you're looking for a reliable car service in Hampton East or the surrounding suburbs, then contact the team at Stuart Hunter Motors. 
We have more than 60 years' combined experience in the automotive industry. We have a team of highly skilled mechanics capable of providing a wide range of automotive services.
As a local business, we take great pride in our reputation. We provide the best customer service, deliver top-quality workmanship using only the best replacement parts, and always work to ensure fast turnaround on all jobs. We offer free quotes on all work before commencing and we always offer completely transparent pricing. 
We also have courtesy cars available on request so you can go about your day with minimal disruption while we work on your vehicle.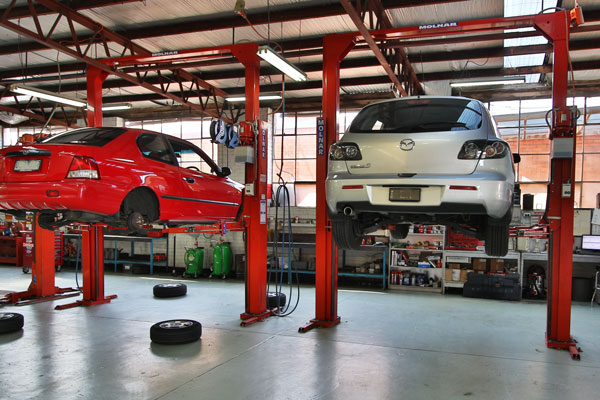 Service Options and Car Repairs in Hampton East
At Stuart Hunter Motors, we strive to be the one-stop auto care centre for customers in Hampton East and the surrounding suburbs. For maximum convenience, we offer a full range of vehicle service options and complete car repairs. 
Just some of our inspection, service and repair options include: 
Logbook servicing – We offer full logbook servicing for most makes and models to maintain the warranty of your car without the cost and hassle of visiting the manufacturer's dealership. 
RACV vehicle inspections – An accredited RACV inspection is essential when purchasing a used vehicle. It's also useful if your vehicle warranty is about to expire. 
Brake repairs – We offer complete brake repairs including hydraulic fluid replacement, pedal inspection, master cylinder testing, brake drum and cable adjustments and more. 
Roadworthy inspections – A roadworthy certificate is required for selling, buying or re-registering a vehicle.As a VicRoads licensed vehicle tester, we can provide roadworthy certificates for all makes and models. 
Air conditioning repair and re-gas – We are EPA and ARC licensed to provide automotive air conditioning repairs and servicing. 
Wheels, tyres, steering and suspension repairs – We offer wheel balancing and alignment, bearing inspection and replacement, tyre rotation, power steering repairs and full suspension servicing and repairs. 
Child restraint fitting – If you're looking for mechanics in Hampton East qualified to install child restraints, we can help. Our team is RACV trained to properly fit child restraints. 
Auto electrical – We offer a full range of auto electrical servicing and repairs including battery testing and replacement, alternator testing, portable battery packs, EFI testing and parts replacement, and lighting globe replacement.
Contact Us Today
If you're looking for a premium car service in Hampton East or you need expert car repairs or mechanic advice, contact Stuart Hunter Motors. Give us a call today on (03) 9555 9791 or contact us online to book a service or get a free quote on repairs.